Are you trying to follow a ketogenic diet but finding it difficult to plan your meals due to its carbohydrate restrictions? Don't worry; we've got you covered! In this blog post, we'll share our top 3 keto-friendly recipes that are easy to prepare and delicious.
The keto meal plans focus on reducing your carbohydrate intake to just 5-10% of your daily energy intake. This typically means you will only be consuming around 20-50 grams of carbs per day if you're following a 2,000-calorie diet. With such a low-carb allowance, it can be challenging to develop meal ideas that are both satisfying and nutritious.
Here are our top keto meal plan recipes to get you started. From taco substitutes to salads and rice dishes, these recipes are perfect for anyone following a keto diet.
So, let's dive into our top 3 favourite keto meal plan recipes:
3 Keto Diet-Friendly Recipes That You Can Easily Cook At Home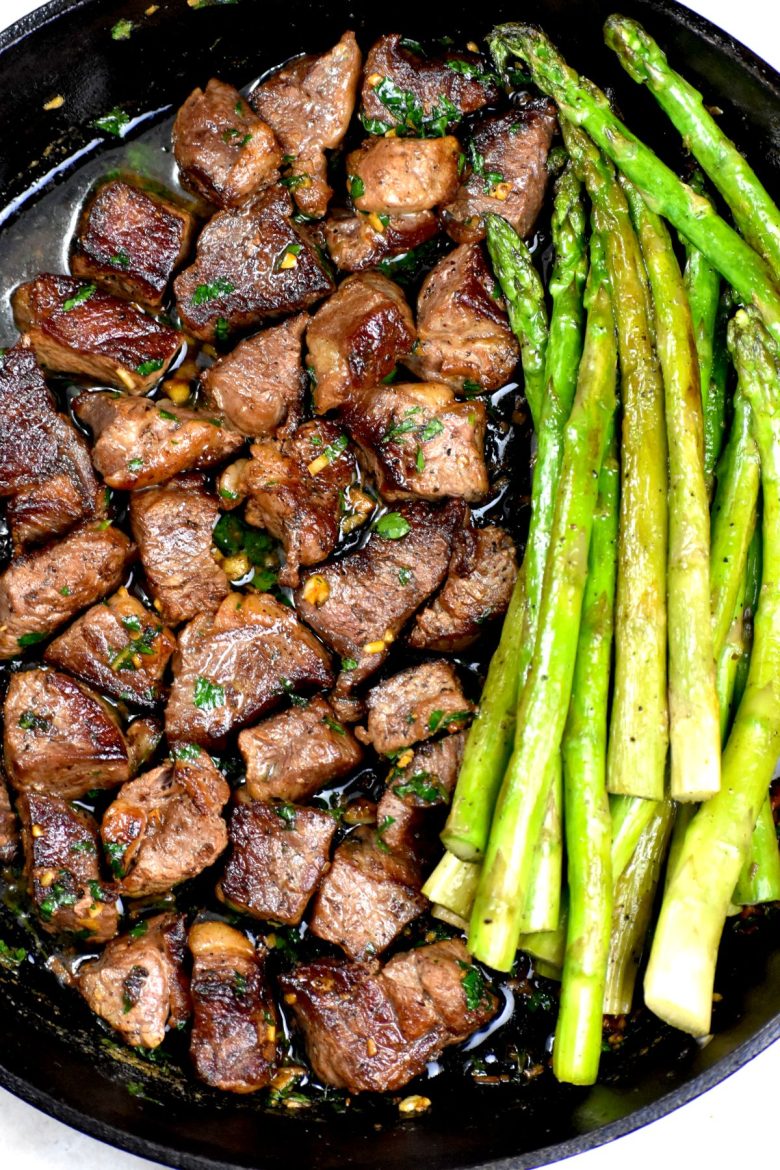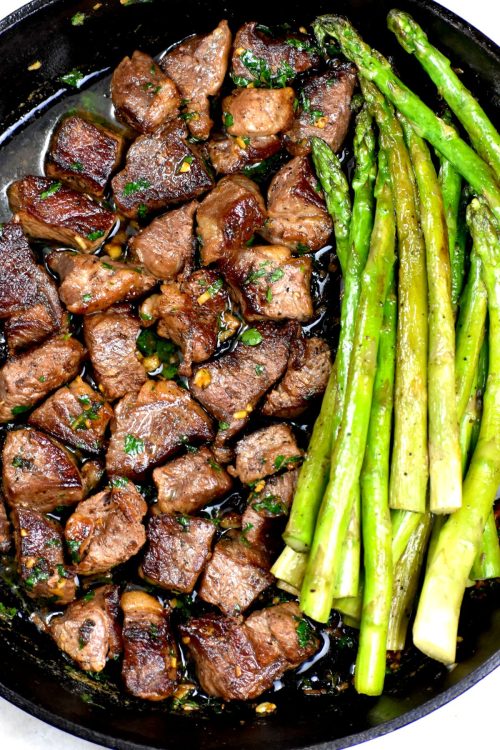 Nutritional Information: 661 Calories, Total Fat 52g, Carbohydrates 1g, Protein 45g
If you're a steak lover, you'll want to try these mouth-watering pan-seared garlic butter steak bites. These perfectly cooked bite-sized morsels of tender steak are drenched in a rich and flavourful, garlicky butter sauce that will take your taste buds to a whole new level.
The best part? You don't need to work on the stove for hours to enjoy this delicious dish. These steak bites are quick and easy to prepare and will be ready in under 15 minutes.
Ingredients:
Your preference of 680 grams of steak cut down into bite-sized pieces
1 tbsp of olive oil
6 tbsps of butter
4 finely chopped garlic cloves
¼ cup of chopped parsley
Salt and pepper to taste
How To Cook Garlic Butter Steaks:
First, heat some oil in a skillet over high heat. Add the steaks and season them with salt and pepper when the oil is hot. Let them cook for 2 minutes without stirring. Then, mix them and continue cooking for another 2-3 minutes until they are cooked to your liking. Once done, remove the steaks from the pan and transfer them on to a plate.
Next, reduce the heat to medium and add butter to the same pan. After the butter has melted, add some minced garlic and fresh parsley and constantly stir for about a minute.
Return the steak to the pan after removing it from the heat. Toss them well with the garlic butter sauce until they are evenly coated.
And voila! Your delicious pan-seared garlic butter steak bites are ready to serve. Enjoy them as an appetiser, snack, or main course, and savour the explosion of flavours with every bite.
2. Low Carb & Keto Sesame Chicken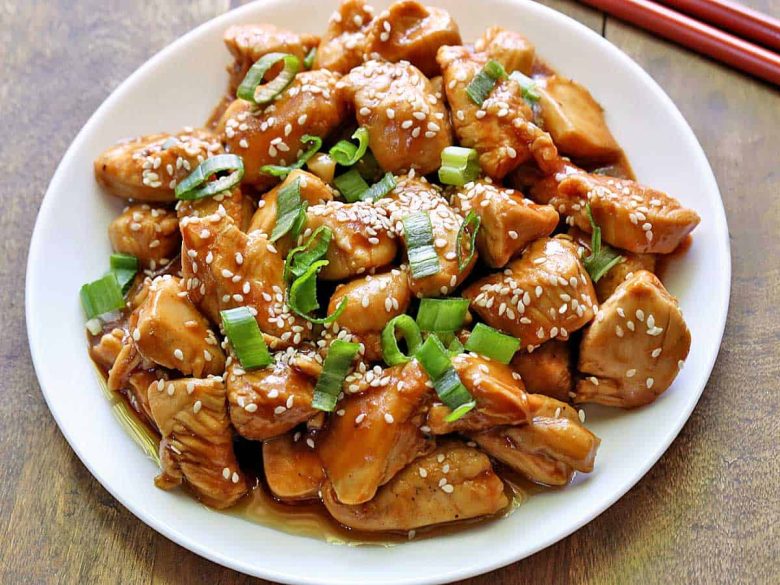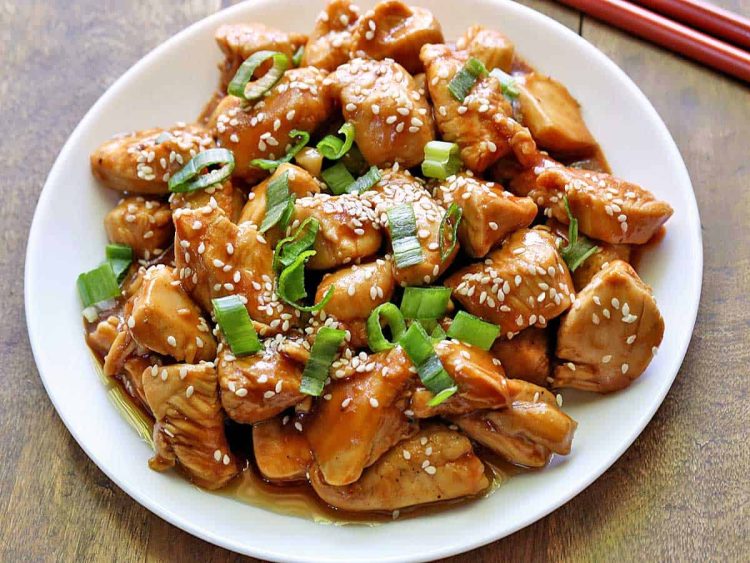 It's crispy, golden-brown coating, and deliciously sweet and savoury flavour will satisfy your cravings and help you maintain a low-carb or keto meal plan.
Nutritional Information:
520 Calories, 36g of Fat, 45g of Protein, 4g of Net Carbs
Ingredients
Coating & Chicken
1 egg
1 tbsp of cornstarch or arrowroot powder
450 grams of chicken thighs cut into bite-sized portions
1 tbsp of toasted sesame seed oil
Salt and pepper to taste
Sesame Sauce
2 tbsp of toasted sesame seed oil
2 tbsp of soy sauce
1 tbsp of vinegar
1cm teaspoon of fresh ginger
1.4 tsp of xanthan gum
1 clove of garlic
2 tbsp of sesame seeds
How To Cook Low-Carb and Keto Sesame Chicken:
First, make the batter by combining a large egg with a tablespoon of arrowroot powder in a bowl. Whisk it well and add your bite-sized chicken thigh pieces to the mixture, coating them thoroughly.
Next, heat a tablespoon of toasted sesame seed oil in a large pan. Add the chicken thighs into the hot oil in the pan, leaving some room between each one. If necessary, work in two batches to avoid steaming the chicken. Be gentle when moving and flipping the chicken to prevent the breading from coming off.
While the chicken thighs are cooking, which should take about 10 minutes, make your sesame sauce by combining all the sauce ingredients in a bowl and whisking it well.
When the chicken is cooked, add the sesame sauce to the pan and stir it well to combine. Let it cook for 5 minutes until the sauce has thickened and warmed up.
Finally, serve the chicken on a bed of cooked broccoli. Sprinkle some more sesame seeds and green onions, and you're ready to enjoy your delicious low-carb and keto sesame chicken!
3. Keto Beef And Broccoli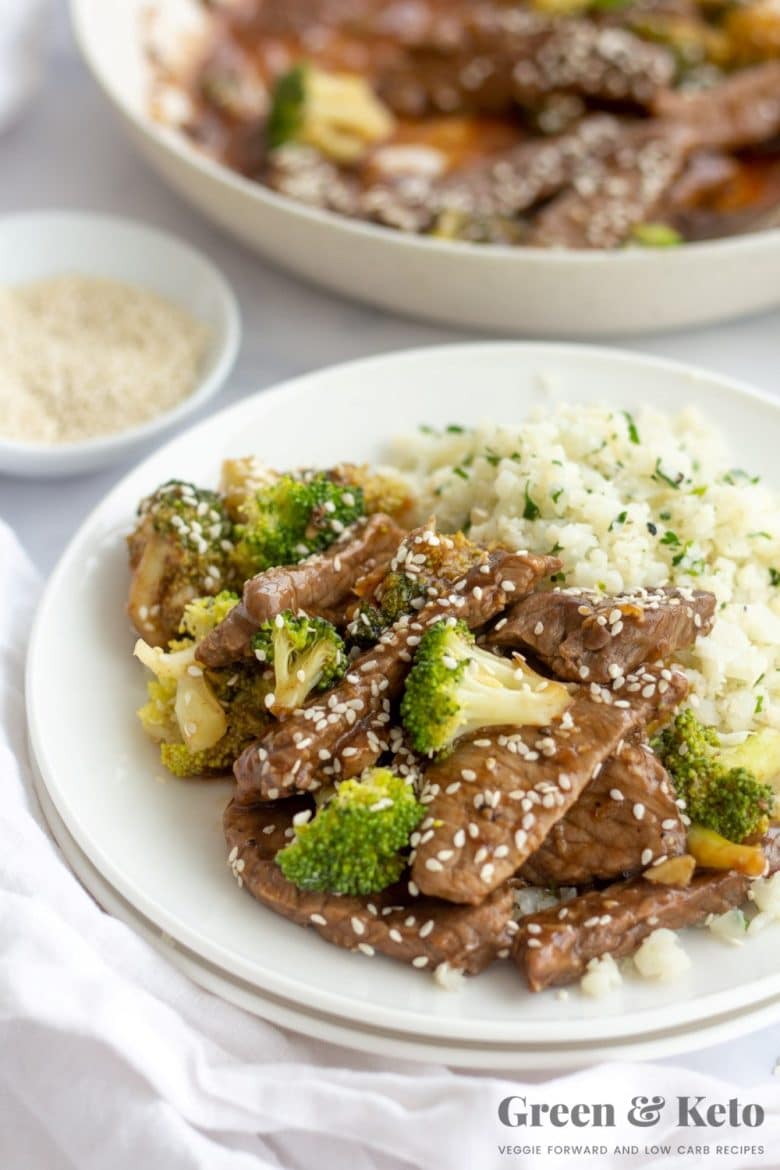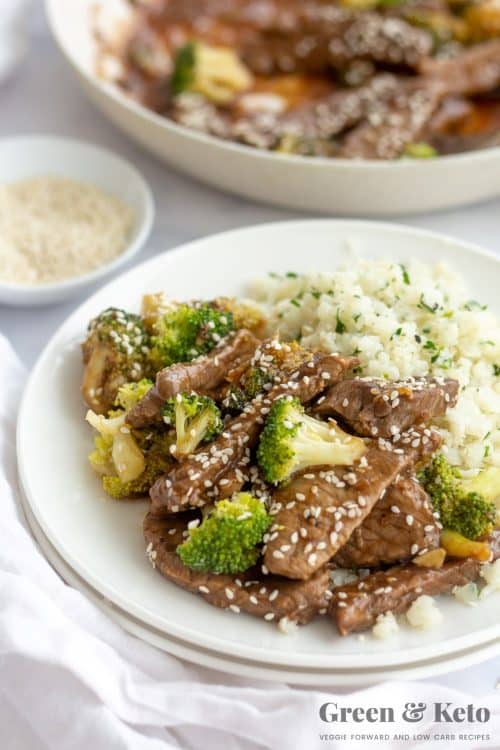 Nutritional Information: 498 Calories, Carbohydrates: 5g, Protein: 59g, Fat: 26g
Ingredients:
1.5 pounds of beef flanks of your choice. Tri-tip and inside round are good choices to go with
6 tbsp of soy sauce separated. You can also opt for coconut aminos as a replacement for soy sauce
3 tbsp of rice wine vinegar unseasoned, divided equally
1 tsp of sesame oil
4 cloves of minced garlic
4 crowns of broccoli
1 inch of minced garlic
2 tbsp of oil divided
1 ½ cups of beef broth
Salt and pepper to taste
How To Cook Keto Beef Broccoli:
Here are the instructions for this Keto Beef and Broccoli recipe, broken down into easy-to-follow points:
Marinating the Beef:
Thinly slice the beef and combine it with 4 tbsp of soy sauce or coconut aminos, 2 tbsp of rice wine vinegar, and 1 tsp of sesame oil. Set aside.
Preparing the Broccoli:
Cut the broccoli into bite-size pieces.
Boil the broccoli in hot, salted water.
Once the water boils, drain the broccoli and place it in a bowl of ice water or run very cold tap water over it.
Set the broccoli aside.
Making the Sauce:
Finely chop the garlic and ginger and set aside.
Add 1 tsp of oil in a skillet and cook the garlic and ginger over medium-high heat until fragrant and soft for about 3-4 minutes.
Add the beef broth and simmer for a few minutes to combine the flavours.
Add two tbsp of soy sauce and one tbsp of rice wine vinegar. Season with salt and pepper.
Cooking the Beef:
Add 1 tbsp of oil to the same skillet and heat it over high.
In batches, cook the beef until browned but not entirely cooked all through, for about 1-2 minutes per side.
Remove the cooked beef and cook it in batches, adding more oil until it is all browned.
Combining Everything:
Add the beef and the broccoli to the sauce and cook over high heat until warmed through and combined.
Serve and enjoy your delicious keto meal!
Conclusion
Incorporating these three delicious and easy-to-make recipes into your keto meal plan can help you stay on track and enjoy your diet even more. So give them a try and enjoy the benefits of a keto lifestyle!
(Visited 41 times, 1 visits today)