When the last unapologetically upsetting Tinder profile smears its way down the lefthand corner of your cracked iphone screen. When the last greasy pad thai noodle of your sixty dollar, immediately-not-worth-it postmates order is finally snuffed. When you've rewatched Stranger Things four times and you're just reminded how far away Game of Thrones Season 7 really is. When the darkness settles in, and you are triggered by what once was "your guys' song" into a nightly abyss of nightmarish depression. It's time for a good ol' fashioned, post breakup sob sesh.
You can't sleep. Your bedroom is a prison of shattered dreams. It's past midnight. Where does a heartbroken asshole go for a satisfying, mid week, anxiety induced cry? And is there food around that place? Is it cheap? Is it good? Is a real, affordable LA based oasis too good to be true?
It's not.
Tailored to your ideal ugly cry methods, from whimper to weep, this guide offers the most accommodating places to low key actually die after a breakup.
Bourgeois Pig
For the whimpering, woebegone ultra tradge cases, this Boho chic, opium den inspired coffeehouse offers some seriously grade A dark corners. Drag yourself across the cold, paint splattered concrete, avoid at all costs the inflated egos of brooding, doomed screenplay writers, and crawl further into the rear of the restaurant- into a handmade, dimly lit, pillow strewn forest.
While a little stuffy and scattered with caffeinated couples snogging on cushions that have been there for at least the ten years I've been going there, you can find yourself a spot to silently hiccup tears until they close at 2am. If you ever wished your personal cry hole could be in a Tim Burton decorated window display for Anthropologie, this is the cry hole for you. Their Moroccan tea is thoroughly soul cleansing though. Go for it. You have nothing left to lose. Nothing. Nothing left.
Century Day and Night Spa
It's 24 hours. You don't have to leave. I have a friend who had "A BROWNIE" and passed out there for a whole night after weeping quietly in the steam room. No one bothered her. You can just slip into a coma and revel in your newfound isolation. With so much water dripping down your face, no one can tell the perspiration from water from the tears. And there's Korean food there.
You will shed a skin, and you will forget about your heartbreak in between bleary shifts of naps, bulgogi, sweating profusely, and going back out to your car to finish that poorly rolled, soul numbing Backwoods J.
Park at Tujunga and Magnolia (Or Like, Any Other Park)
There's ample parking at night. Get on Spotify, create a new playlist of songs that have nothing to do with the person you once dreamed of spending your life with, and blast those rage tunes. Go for a smoke, bring a wagon of street tacos, avoid complete eye contact with sketchy homeless people, and mutter loudly, often, and angrily to yourself in between salsa soaked flour tortilla and strips of avocado flesh.
When you find the right smog-choked, dog urine-soaked tree, you'll feel it in the remnants of what used to be your heart. Sit under it. Keep each other's miserable, improperly nurtured company. Cry under it. Bond over what you guys do best; decomposing alone.
Any Parking Lot Downtown
The bad news is- it's the worst place to be in an earthquake. The good news is- you'll be the first to be crushed.
You can people watch, give judgemental side eye to drivers who take ten minutes to back out of a spot, condense your car trash into a haphazard pile on the passenger seat, repress bittersweet memories. You can zone. You can read, listen to Tedtalks, delete and redownload Bumble three times. Take a nap, bring a pillow, a portable phone charger. No judgement.
If you're one of those peeps who like a shoulder to cry on, plead for the company of a kind, mustachioed valet man. If you're not comfortable with one on one, he can at least check on the status of your body and/or report your mental breakdown to the authorities if necessary. This experience can range from $8-$20. Plus tip.
The In n Out Drive Thru Line
It's endless, it's time consuming, it's open late, and at the end, you get In n Out. Cry openly with the friendly angel who will take your animal style dreams and turn them into a short, sloppy, breakup reality. He/She will understand. They always do.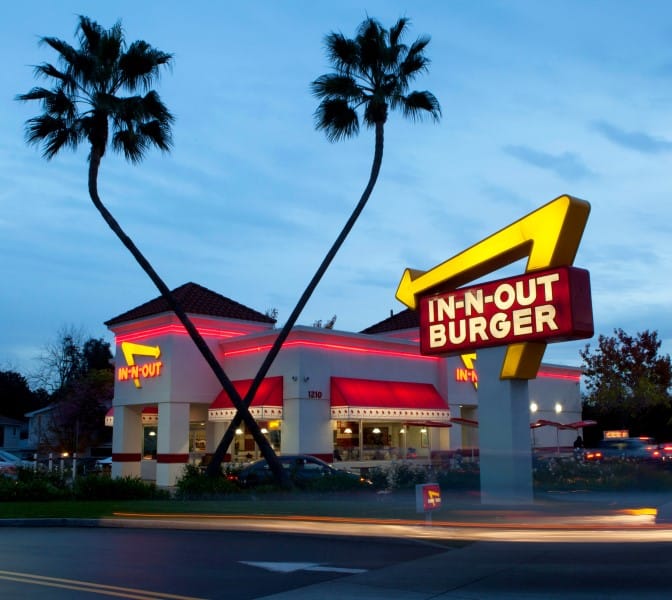 P.S. The best thing about the secret menu is the root beer float.
Malibu
For those who need to dramatically wash themselves anew in nature, the beach is always a reliable place to purge your breakup demons. The gem beaches- El Matador, El Pescador, and that other one I can never remember but you can easily google. These places are good for three things; crying/eating oreos in caves, uncomfortable test shoots with creepy photographers, and semi-uninspired engagement photos.
You can lose your shit in so many ways on top of the shit you have already lost. For example, discovering you can't share your parking pass with the newcomers and participate in the fleeting pleasantry of being a nice person in LA for a second. If you're not careful, you can also literally lose all the shit you brought to binge on to flocks of fearless, hungry seagulls.
You can also lose your shit over the turd couples who blast modern country music from personal radios and drown out the naturally therapeutic waves, gulls, wind, water, and other beach sounds that any respectable person wants to hear at the beach.
You can always try and deter the radio blasters by sitting closely next to them, intimately even, and crying traumatically. Or you can bury your face in a towel and time your screams to the waves crashing. Finish at Malibu Seafood for the dankest fish and chips as well as LA's longest, most infuriating line ever. Longer than Pink's. Or just walk deeper and deeper into the ocean and don't look back. Either way.
Menchie's
I know there's Yogurtland, I know there's Pinkberry, a Salt and freaking Straw just opened up on Ventura Blvd and Laurel Canyon near me, but no brokenhearted sweet tooth can resist the cravings incited by Menchie's signature House colors and sigil- a "passing" hot pink and neon booger green twist. Piled on top of a characterless, greying face. Obviously.
Once you pass the not eating anything but whey protein and Motrin PM phase, and transition into the eat your feelings and congeal into liquid depression stage, this is the ideal time slot to really get in there and destroy yourself. The sweet spot, the Bliss Point if you will. Where your mind is too weak to say stop, and the sugar dissolves too quickly in your mouth for you to realize when your body wants to actually quit being alive.
Pile on the Mochi, the Circus Animal Cookies, all the rainbow sprinkles, create a refined sugar Frankenstein monstroity for under seven dollars. Do not make the rookie mistake of an off balance candy to fro-yo ratio; there is nothing more disappointing or humiliating. Besides your life- but you know that. Now the real cherry on top, the truly inspiring, somewhat spirit lifting part in all this, is the reminder that you aren't legally obligated to say "Have a smiley day" to anyone. Ever.
I know a breakup is sort of the most difficult thing a human can endure. I know. I know you would actually prefer a black hole to suck you into hell right now, but I promise- if you find the right dark corner, and believe just hard enough, with a little bit of zoned out, meditative magic, you can probably conjure one.
Valar Morghulis, everyone.
Yeah. That's right.
(Visited 1,080 times, 1 visits today)