Contemporary design in short terms is the type of style that changes in the course of time. This type of style usually focuses on the present fashion or what is popular in home design. While having this type of design might be a bit vain in the sense that what is considered being good might change later. This design does make a home beautiful.
If you are interested in adding a contemporary feel into your home, one is required to choose a color that is considered contemporary. For instance, the colors white, black and grey are colors considered to be contemporary and also bring about that luxurious look at your house. However one can choose to add bright colors but be careful not overpower the contemporary colors. The colors should marry each other in the sense that they form a perfect blend. Color schemes that are monochromatic are a perfect way to bring about this design quite beautifully.
One can also decide to get some ideas from other styles apart from the other modern design. This gives your home a personal and homey look. This is usually advised as this design is quite short-lived. You can decide to include textiles and woods that are usually seen on the Scandinavian design. For example, you can incorporate furniture from different time periods this gives your house a beautiful but unique look, instead of only using contemporary wood furniture. You can also bring forth an intriguing yet contemporary look by adding British furniture.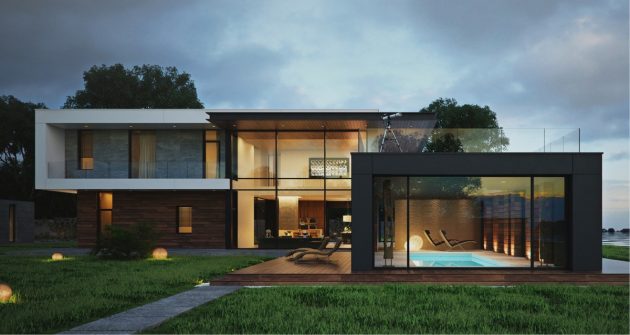 Another way one can add this type of design is by ensuring you put a great emphasis on the architectural lines. This is usually done to showcase the great detail put on any structure in the building. By being keen on the shape of the edges and vertices of the windows and door borders. By doing this one can be sure that their home has a crispy but clean feature.
One has to know that straight lines should not be made that often as too many of the straight lines can easily make your home have a minimalist or industrial designs which are not exactly the goal in mind. Hence it is advisable to add a bit of the curved or fluid lines. These lines are usually brought about by a rug that has a natural shape and this rug can be situated near an angular sofa or around the mirror instead of the regular rectangular one. This usually prevents your home from looking stark hence has a comfy feel to it.
The modern design which is sometimes interchanged to contemporary design can also be achieved by decluttering your home. It is important not to have too much of what is quite needless and pointless. However, if you feel the need to include many things it is advisable to purchase contemporary wood furniture such as chests and drawers which could act as storage.
Having plain but beautiful furnishings usually does the magic of bringing forth this type of design. Large items such as rugs and bedding are usually kept plain so as to accentuate the look. A clean space is usually achieved by doing this. You can also add a bit of artwork that says something about your personality however one should not put too much of the artwork. These pieces of art should work together with the few accessories that are meant to decorate the house to achieve this design. The said accessories should have patterns that accentuate the rather neutral room.
(Visited 187 times, 1 visits today)