The annual Consumer Electronics Show (CES) 2017 is underway at Las Vegas (Jan 5-8), and already a host of new and exciting products have been launched at the highly-anticipated technology event. Here, we take a look at the most interesting and innovative gadgets showcased on Day 1 CES:
HTC's VR Trackers
In order to make its Vive virtual reality (VR) experience more immersive, HTC has launched the Vive Tracker that allows motion-tracking, and can be integrated with physical objects such as toy guns or bats. The new hardware reportedly includes a VR camera, multiple rifles built for VR shooting games, haptic gloves, a baseball bat and a firehose. HTC also released the Vive Deluxe Audio Strap with adjustable headphones to further enhance its VR experience for users. Both products will be officially available in Q2 2017. Prices were not revealed.
Wair's Anti-Pollution Scarf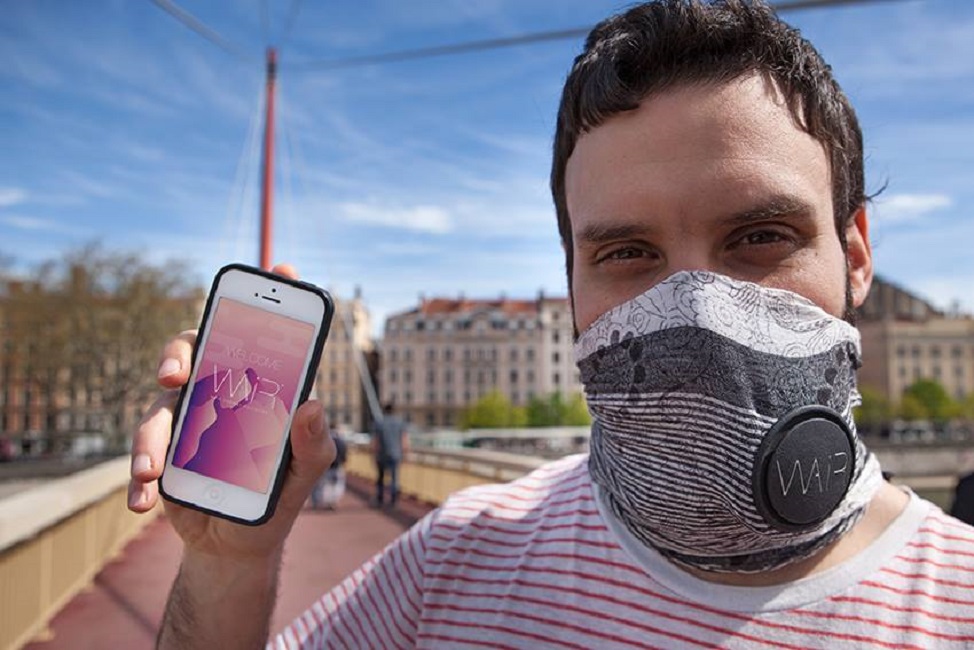 French startup Wair showcased a new scarf at CES that can be used as a fashion accessory, and an anti-pollution gas mask as well. Sounds like great news for people living in cities with high levels of air pollution! The scarf contains an embedded filter (which will need to be changed after every two or four weeks) to prevent dust, gases and germs, and can be used as a respirator mask when you get an alert from Wair's companion app 'Supairman' warning about rising air pollution. The anti-pollution mask costs $55 for men and $90 for women, with shipping expected to start in a few months.
Smarter's Fridge Cam
There are several home security systems in the market which allow you to keep a track on your house in case some untoward activity is taking place. U.K.-based company Smarter has introduced the Fridge Cam through which you can spy on your…groceries. Fridge Cam is a small camera clicks a snap every time you close the fridge door, has visual recognition tools to alert about products that are about to expire, thus allowing you to manage your groceries in a better manner. According to Smarter, Fridge Cam will turn your refrigerator smart just at the price of $149, compared to extremely expensive alternatives like Samsung's Family Hub, which has a starting price of $5,600.
Faraday Future's Electric Car FF 91
Faraday Future, a CA-based startup that focuses on developing intelligent electric vehicles (EV), showcased a prototype of its much-touted FF 91 model at CES. A four-door, 1,050-horsepower EV capable of reaching 0-to-60 mph in just under 2.4 seconds. According to Faraday Future officials, the car has a battery capable of providing a total travel range of up to 378 miles. The company plans to mass produce the FF 91 at its new $1 billion assembly line in southern Nevada from 2018. It remains to be seen whether Faraday can really deliver on the high expectations with its new vehicle, since only ultra-expensive machines like the Ferrari La Ferrari can currently provide such massive horsepower.
LG's Signature OLED TV W, Hub Robot and Levitating Speakers
LG had a major keynote on Day 1 of CES 2017, where it announced a range of new gadgets, including its ridiculously thin Signature OLED TV, own smart assistant, a new Gram 14 Laptop, a smart refrigerator and five new smartphones. But undoubtedly, the spotlight was on its new 65-inch Signature W7 TV-an OLED measuring at just 2.57 mm thick and seems to be levitating in mid-air.
LG released four other OLED TVs at CES along with the W7, with each varying in size between 55 inches- 65 inches. The extremely thin size was made possible by shifting all the space-consuming components into a separate box that is connected to the screen with a cord. All the models will have improved acoustics with Dolby Atmos technology. The pricing and release date of the new TVs have not been revealed yet by LG.
LG also released its own smart assistant- the Hub Robot, which looks like a cute little chap in appearance. The Hub Robot uses Amazon Alex for voice command recognition and can respond to commands by swiveling to face the person it is interacting with. Certainly looks like a better option if you are keen to have a livelier tech assistant at home.
Another unique product that garnered much attention at CES was LG's PJ9 Levitating Portable Speaker. The levitation part (and there is actual levitation here, not an illusion) happens through electromagnets, which the speakers uses to float in midair, providing 360- degree sound. A subwoofer is included in the device's station. Whenever the battery life starts to fade, the speaker begins to wirelessly charge automatically.
Sleep Number 360 Smart Bed
Sleeping is the favorite activity of each and every human being on earth. With the fast-paced life that we all are leading, it was inevitable that sleep tech would be a hotly explored area in the field of innovation. MN-based Select Comfort's Sleep Number 360 Smart Bed imbibes technologies to promote better sleeping and undisturbed sleeping patterns. Depending on the user's sleeping patterns and movements, the bed can self-adjust throughout the night to EVEN PREVENT OR LESSEN SNORING. Wow. In addition, it also comes with foot-warming technology and gentle alarms to wake up the user.
Hypersuit
Because why not? VR technologies are everywhere and French startup Hypersuit has taken things to another level by unveiling a hypersuit exoskeleton, a VR simulation rig that allows the user to literally be inside a flying game by engaging the whole body. 'We want the player to be in the game. Not just through his eyes, but his whole body,' says Hypersuit co-founder Tom Sicard.
Geko Smart Whistle
This unique product can be used effectively in emergency situations. Blow it once and it will call, text and email your contacts with your location and recording sound. Sounds like a steal at $49.99.
Jagger & Lewis Smart Dog Collar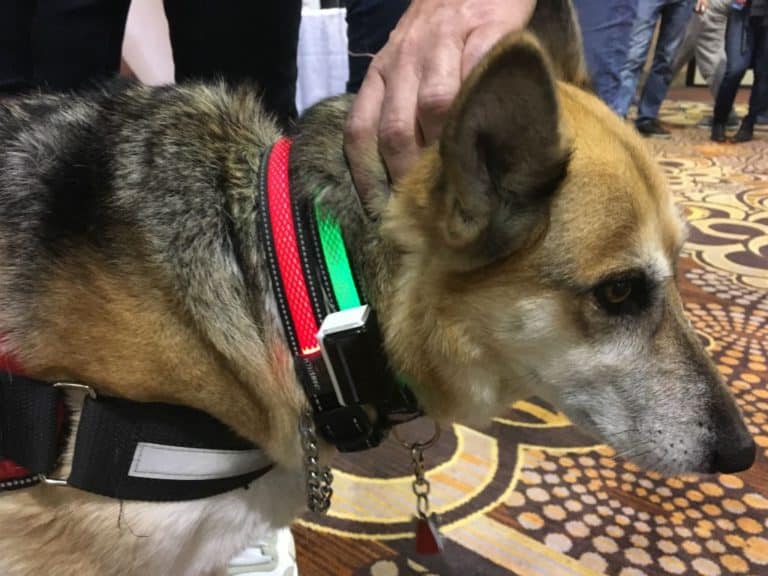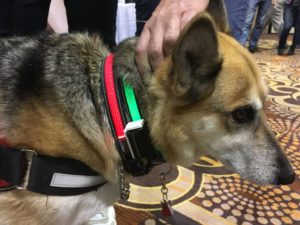 Think your pet doggy ain't in a good mood? This luminous dog collar from Jagger & Lewis can reportedly tell you about your dog's mood based on its movements and tacking the difference while doing different activities like eating, sleeping and walking. Varied patterns could mean your pet is stressed out or may be suffering from allergies. Costs $200.
Airbar
Connect this into your computer's USB and immediately transform your computer screen into a touchscreen. This is done by projecting a light signal from the black bar beneath the screen.
Intel's Untethered Project Alloy VR Headset
VR is a great experience, but we all can agree that staying connected to the computer takes away half the fun by limiting free movement. At CES 2017, Intel gave a demo of its Project Alloy wireless headset, which includes an Intel 7th Generation Core Processor, a vision processor, a RealSense camera, a battery wrapped around your head, a fisheye lens and sensors, with all the necessary computing built inside the headset itself. Shipping is expected to start in Q4 2017.
Kingston's 1TB and 2TB Flash Drives
Kingston just announced the granddaddy of all storage devices-its DataTraveler Ultimate Generation Terabyte that comes in 1TB and 2 TB configurations. According to Kingston, you can store more than 160 GB HD movies on these new flash drives. Shipping is expected to begin in February, but expect for a shocker in terms of pricing.
(Visited 363 times, 1 visits today)