CES 2017- known as the Consumer Electronics Show in its expanded form has ended and we have seen a lot of innovative gadgets being released, transporting many a tech maven into nerdgasm fantasy. We covered a series of the most exciting tech products and gear launched during the event and here is our follow-up post that looks at more futuristic gizmos announced at the event:
8. Foldimate
Doing laundry is a tedious task and folding the finished loads is even more tiring. Wish you had a device that could do the needful for you? Enter FoldiMate, a laundry-folding robot that precisely does the job for you. Weighing around 30 kgs, this unique contraption uses standard power and is connected via WiFi with a total capacity for 15 to 20 pieces- shirts, pants or towels.
How does it fold the clothes?
Simple. You just need to attach the clothes you want folded onto its patented robotic system and the rest is done by the machine. It uses nozzles and sprays to perfume, soften and de-wrinkle your clothing. Once it is done with the entire lot, you get a neat pile of fresh laundry at the end. Each clothing item takes around 10 seconds to fold. The FoldiMate will cost around $850 or so, with pre-orders open at the end of this year and shipments scheduled to begin by 2018-end. You can register and reserve one now on the official website for priority shipping and avail a 10% discount!
7. Smart Remote by Sevenhugs
Sometimes we feel incredibly lazy at home and don't feel like moving our asses for even a wee bit of work. Wouldn't it be great if there was a single remote that let you control every device in your house? Sevenhugs has answered your prayers with the launch of Smart Remote at CES. This new remote can work with over 25,000 appliances, including TVs, speakers, lights, media players, and air conditioners. You just have to point it in the direction of the device you want to control and the remote's touchscreen will display an intuitive surface for the same.
Smart Remote works with WiFi, Bluetooth and Infrared, and has three sensors that you will need to place at different positions in your home. These sensors will be used in a triangulation by the remote for precise positioning in a 3D space.  That means you can use it to control WiFi connected devices on the same network, even if they are in different rooms. In case you misplace the Smart Remote, you can easily locate it by making it ring through the button on its charging dock. This great device can be picked for a pre-order price of $229.
6. Cleo and Hover Passport
Drones are the in thing and will continue to be so, defining the future of technology in the years to come. New drones were revealed at CES 2017 viz. the Cleo and the Hover Passport. The Cleo, weighing merely 65 grams, can easily fit inside your pockets and has hidden propellers to make it safe for use indoors and around people.
It is equipped with a 14 MP camera that can livestream HD videos at 30 fps and record full HD clips at 60 fps. The Cleo can fly for about 20 minutes on a single charge, can be controlled through a mobile app and even operate on its own so that your focus is on capturing the moment.
On the other hand, the Hover Camera Passport is an autonomous 'carbon fibre' drone with a 13 MP camera that can shoot 4K videos. It also has face-recognition and body-tracking intelligence features and a flight time of around 10 minutes on a single charge. It weighs 242 gm and has an Orbit mode in which it circles around you to record, as well as a 360 Spin mode for shooting panoramic images. The price of the Cleo has not been revealed yet, while the Hover Passport costs $599.
5. Smartypans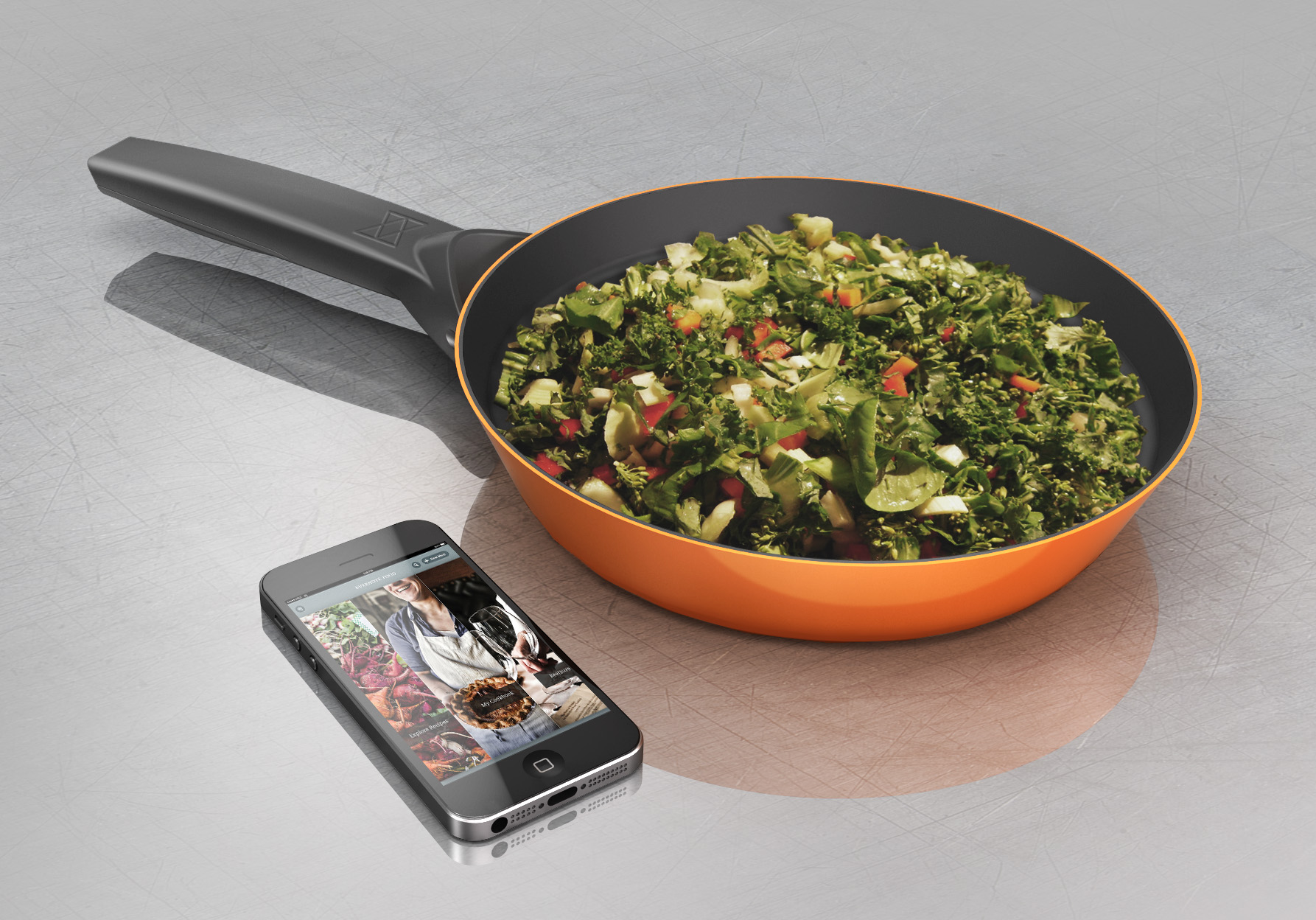 Smart cooking is here with smarty pans, the new smart pan that looks like any other cooking pan. Hah! Sounds like a mouthful, ain't it? This unique pan has a removable cooktop, a robust aluminum body, weight and temperature sensors, along with an 800 mAH rechargeable lithium-polymer battery, and can connect to its Android/iOS app through Bluetooth to help you make the perfect dish.
You can select from over a 1000 recipes included in the app, and you get cooking instructions step-by-step. You can tell the app what all ingredients you are adding (it recognizes voice commands), and the pan will ensure that you never overcook your dish by monitoring the weight and temperature of each ingredient. The nutritional value is calculated by the app, which you can integrate with any fitness app that you are using. Retailing begins at $299, though pre-order prices can be viewed on the official website.
4. SGNL

A truly futuristic innovation, the SGNL smart strap by Innomdle Lab, a Samsung Electronics spin off, allows you to make phone calls through your fingertips, without the need of any earphones or headsets. Once you have connected your wrist band to your smartphone through Bluetooth, the voice signals from the handset are converted by SGNL's Body Conduction Unit into vibrations. This, in turn, is transmitted to the fingertip through your hand.
When you touch your ear with the fingertip, the vibrations are converted into coherent sound, and the call can be completed by speaking through the microphone included in the strap. Best thing about this is that even people nearby cannot hear what's being said, since SGNL uses vibrations for the process. You can attach this to a normal or smart watch and get it at a price of $149 from February 2017.
3. Fuse
These are cordless earbuds that fuse together through a connector to form a capsule-shaped module, which can be used for storage. It has a ceramic body, is waterproof and a 15 minutes charge gives up to one hour of music and talk time. It can also be worn as a pendant when not in use and has a standard charging case. Preorders are ready for $199 with shipping scheduled for H2 2017.
2. Gotenna Mesh
Ever gone trekking and wished you could contact with your companions but it was not possible because of the weak or non-existent mobile connection? Here is Gotenna Mesh, a pen-like device that pairs with your smartphone through Bluetooth and allows you to communicate with other users (who also have this device) without the need of cellular towers, routers and satellites.
It has a built-in antenna with a range of around 4.8 km and uses other GoTenna in the vicinity to create an off grid, long-range mesh network. The texts you send are totally private and do not access your service provider's infrastructure. The Gotenna Mesh is sold in pairs at $149 and the offline maps can be downloaded for use anywhere in the world.
1. Oakley Radar Pace
Only good things can happen when a brand like Oakley teams up with a technology giant like Intel. Here we have a pair of ultra-stylish glasses- the Oakley Radar Pace that is designed for cyclists and runners to help them stay on track with their fitness and training.
These Bluetooth-enabled shades are equipped with an accelerometer, gyroscope and sensors for pressure, humidity and proximity, which are used to collect and analyze performance data such as heart rate, power output, speed, cadence, distance and time.
All this data is then displayed on the Android/iOS app. The Radar Pace's microphone array works in sync with Intel's Real Sped technology, allowing for natural-language voice commands, and has earbuds through which you can attend calls hands-free or listen to music from your smartphone.
The voice-activated coaching system creates customized training programs by monitoring athletic performance, helping the wearer improve their fitness and prepare accordingly for their upcoming competitions.
The Oakley Radar Pace has an IPX5 rating for water resistance, Prizm Road lens that ensure sharp visual acuity and high-velocity impact resistance. You can get these cool shades for $449.
(Visited 626 times, 1 visits today)