I love Android OS because you can customize it the way you want and if you really like to tinker your device just like me, then don't miss to read this article. One of the way which I regularly use to give my device homescreen a fresh look, is installing a new launcher.
Basically, its an app or feature-replacement application just like theme which helps you to launch programs when you tap on them. And in simple language we can say that Android launcher is how your Homescreen cart looks like.
But the question is what are the best Homescreen Launcher for Android? We all know that there are lots of articles floating on the internet featuring lots of Android Launcher and the number is increasing day by day. So keeping that in mind I intend to share some best Homescreen launchers for Android so that it's become easier for you to choose the best one.
Without further ado, let us have a look at some of the best one:
Atom Launcher is a new launcher recently receiving a ton of downloads on the Google Play store – and for good reason. Their approach is to simplify everything as much as possible while maintaining all of the core essential customization and features that one might need for their home screen. Includes customizable widgets, blazing fast execution speed, unique folder creation/modification features and excellent theme support. Both unique Atom Launcher themes are available as well as full compatibility with all Go Launcher and SSKinthemes. The best choice by far for android owners interested in customizing their device while keeping things light and responsive.
Price: Free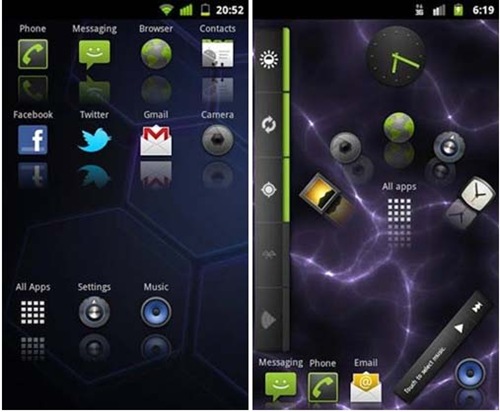 For those of you looking for an absolutely no-compromises bare-boned launcher, Lightning Launcher fits the bill. Designed from the bottom up as a low-memory fast as the dickens launcher Lightning also has great homescreen icon placement customization. Treating the home screen as an infinitely large vertical/horizontal canvas, it allows you to organize your apps exactly the way you want. Completely free.
Price: Free
Holo launcher is an excellent launcher for those that are into keeping things organized on their home screen. It earns its place at number 3 through an awesome Desktop Pages/Grid system with infinite scrolling. As opposed to many of the other launchers on this list, it also has support for custom drawer grids for both portrait and landscape modes. Besides that, it has all of the bells and whistles you would expect for a top android launcher… Icon customization, gestures, etc.… and even includes an option to backup and restore settings and shortcuts – an absolute must-have for those of us who have multiple devices and want to keep our settings synced!
Price: Free (Premium version available)
The first and most powerful 3D launcher on our list. TSF shell Pro 3D is built to provide excellent organization and customization in 3D. Includes App shortcuts, powerful theme functionality and access to a sidebar for creating instant access to frequently used functions… But what is really amazing is the ability to customize your home page using 3d elements. Unfortunately there is a hefty price tag to go with it, but for those that don't mind spending some money TSF shell Pro 3D has an organization and customization features that really can't be beat.
Price: $16.80
In the number five spot we have Nova Launcher. Some of the most prominent features include a flexible, customizable app drawer and desktop, app scrolling and unlimited wallpapers. This launcher is excellent for those interested in keeping their App drawer organized and personalized. It also has an excellent backup and restore feature, allowing you to easily restore previous settings and keep your home screen through ROM changes or resets. There is also the option to upgrade to a premium version for $4 which adds additional gestures and other customization features.
Price: free (or $4)
At number 8 we have a very interesting launcher taking the ideas behind windows 8, adapting them for the Android platform and making them better. Though Windows 8 has thus far been quite the flop, some of the ideas behind it's home screen organization makes sense – that's where Launcher 8 comes in. The core of this launcher revolves around creating tiles on the home screen that are essentially shortcuts to apps, actions or anything else you would like to have access to. It's a breath of fresh air in a crowded launcher marketplace and allows for very deep and meaningful customization and personalization. If you are looking for something different, Launcher 8 is an excellent launcher to try out.
Price: free
No top 10 list would be complete without the 10-ton gorilla in the room. Go Launcher EX is a fairly smooth launcher focusing on great App management functions, widget support, efficient gestures and a LOT – LOT – of themes. An excellent launcher for those who don't mind making their device feel a bit more bulky in the pursuit of beautiful personalization and efficient organization.
Price: Free
For those of you that are aching for a more simple, bare-bones launcher, Smart Launcher is excellent. The UI is quite different from many of the standard launchers, using an innovative "Quick Start" menu from the main home screen to directly link to frequently used apps. Not unlike Launcher 8, there is a sidebar available to help navigate from the home page quickly and there is also a categorically ordered App drawer. Nothing fancy here, but has a great simple design and gets the job done.
Price: Free
ADW Launcher is another very popular launcher on the Google Play store recently. ADW's main claim to fame is excellent customization. Everything from the thousands of skins to the icons, docs, folders, etc… is all completely (or nearly) customizable. The performance is nothing special, but the customization makes it a top pick. Also includes handy features such as backup/restore and desktop indicators. Finally, there is a pro version available that adds even more features and customizations.
Price: Free (ADWLauncher EX – $3)
Finally we have Apex Launcher. Compared the other launchers on this list, Apex does not have any single unique amazing features. What it does have is an amazingly solid experience, most features that you could want in a launcher, and an excellent folder and app drawer customization system. Gestures, transition effects and even the ability to lock your desktop to prevent accidental changes, Apex is solid. This list needed to have one general does-everything-fine launcher and this is it. Pro version adds notifications and lots of customization.
Price: Free, Pro version: $3.78
Action launcher is a very popular app in android market. It's free and easy to use. It provides the best usage and freedom of easy touch sensation and this app is very popular because of the great responses and its lightness. It can be easily used by a swipe. So that makes it very easy to use and popular.
Price: $3.99
It's everyone's favorite customizable launcher. It has still the same features as the same above but it's highly customizable feature makes it very popular and highly recommendable. The new releases are coming soon and the users will enjoy it soon.
Price: Free
You can also try this underdog launcher with simple and good look. This launcher is very is easy to use .
Price : Free
Crazy Home is crazy launcher which gives you 3 separate desktops and up to 5 screens for each w/ theme and lots more
Price : Approx $3.9
SPB Shell 3D is 3d home screen Launcher for the next generation with innovative user interface. There are lots more which make is special just use it and experience it.
Price : Approx 14$
MX Home is a launcher application that specializes in 3D effects on its 'Theme page. Some of the features of this launcher are listed below :
Dynamic 3D G-sensor movement

Various graphic & sound effects

Coffee bean popping-out effect by shake

3D water bubble background effect

Shortcuts for 8 major App.'s

Control tray, and lots more
Price : Free
Regina is an awesome 3D Launcher for Android. Using which you can create folders, in your workspace and even folders. And navigate folders with more fun. You can place a maximum of 16 shortcuts and there are lots more feature which make is special .
Price : Free
Launcher Pro is another Simple. Powerful. Fast. Customizable Android Launcher with lots of features. Some of them are listed below:
Super-smooth scrolling

Animated screen previews (like Exposé or HTC Sense)

Up to 7 home screens

App drawer (2D and 3D!) with a fly-in effect and smooth scrolling

Scrollable shortcut dock
Price : Free
It must not be considered an aftermarket app for the  Android phones. It is a good launcher. It has got a minimal look. The dock has space for 3 icons. The home screen comes in 5 palates. The folders are very basic. The shortcuts are not at all customizable.
It's a conventional launcher. The optimization of the tablet is reported to be great. The dock can have 5 icons of which 4 are customizable. There is a drag and drop folder support. With its5 screens it is reported to be working good. Some feature are basic as yet but ICS launcher is getting popular.]
The new trend these days is of smart phones and Tablets. Here is a launcher for tablets. They call it Chameleon. It provides the user with a dock at the bottom of the screen. It gives user a tutorial at the start which tells him about the manuals of the app.
Price: $3.99
Espier Launcher is the best iOS-style home application for your Smartphone or tablet which is based on Android 2.2 or later. It brings you an entirely new interactive experience, and makes your Smartphone and/or tablet to be different from the rest.
Price: Free
The users must decide according to their use ad personal liking what they want to choose.